Last week's issue of Time Out Chicago had a cover story about the 20 Chicagoans You Should Know. So hear is the Liar's Club response with our
15 Chicagoans You Shouldn't Know
...
1.
The bitch who brought her little bitch (dog) into The Gap on Lincoln Avenue the other day while I was

trying

to have a relaxing gift card spending day, which is my favorite way to shop, perhaps the only time I enjoy shopping
. In any case, when the manager told her she couldn't be in there with the dog she threw a
fit
. She said she does it all the time, the other manager is cool with it, etc, but just leave your stupid, little dog at home. I could see if the bitch, I love using that word in this sense, could fit in her purse. No, even then, leave your stupid dog at home, you stupid lady.*
2.
The evangelist guy with the megaphone who informs passers-by of all the different actions that will provide you with an all-expenses-paid trip directly to

hell

, including smoking cigarettes.
I can't believe I found a photo of this guy!
3.
Mike and Joe
. These two idiots, I'm not sure which two in the picture, since it's a four-piece, shitty band, play covers of 1990's and 2000's, alternative, rock songs, and they play them exactly the same. I will say they do a good job at sounding just like the original versions, but what is the point of doing that? That bothers me. It's like all those re-made movies that were good the first time, like
Willie Wonka
and
Psycho
. Why mess with success, right? The difference is some of the songs Mike and Joe play were
not
good the first time around, like crap by OAR, Jack Johnson, and John Mayer.
4.
Tank Johnson of the Chicago Bears
. For all I know he might be a really cool guy, but the cops found a mess of guns in his house, which he blamed on his friend, who got shot a few days later. He's also like 300 pounds, and he could probably run faster than you. On second thought, maybe he should be on the 20 People/Lizards in Chicago You Don't Want to Piss Off list along with the Kamodo Dragon at the Shedd Aquarium.
5.
My Sister's Soon To Be Ex-Husband
. Coincidentally,
I
think I might be on
his
20 People in Chicago I Pray to God I Don't Run Into list.
* I think I could have parlayed this little encounter into a phone number from an attractive check-out girl, but I blew it. I had a question about some jeans, and she said I should take it up with the manager guy. I said, "I think he's talking to someone on the phone about the dog-lady incident," which he was. She laughed, and it looked like it might have been on like Donkey Kong, but there were people in line behind me, so I just left. I stopped in there today and she, the cute check-out girl, not the dog lady, wasn't there. :(
6.
The Smithe Brothers
. If you live in the Chicago metro area you know them well as the three brothers who have some of the most annoying television commercials of all time. They sing, they dance, they rip off every pop-culture and throw it into one of their commercials. I am surprised no one has done a drive by on them yet (I am not condoning violence). That's Smith with an E... or, That's Smith with a not going to buy your crap furniture.
7.
Real Estate Sales Guy on the Brown Line
. Yep, he's there. He rides the Brown Line... talks to himself... and lets everyone know just what each neighborhood is doing wrong in real estate. There are times when you might think he's talking to you, but no - he's just tweaking out. Not sure if anyone has gotten any solid leads from him, but I'd stay clear of him.
8.
Cucumber Jewel Guy
. There is a creepy guy that works at the Jewel Osco on Ashland & Wellington that likes to come to my self-checkout line and pick up one of the cucumbers I am buying at sigh, and then shake a little, and say "Oooooh, I only wish." Yuck. Don't touch my cucumber!
9.
Janet Davies
. She is part of the ABC 7 News crew (she's just a sub). She is part of the 190 North (an awful around-town television show... maybe worse than Metromix) crew. And she is part Joker. Look at her... she looks like the joker! Save us Batman! Save us!
10.
Mr. Santa Claus CTA
. One of the bus drivers on the 22 Clark bus kind of looks like Santa Claus... if Santa has been doing hard time for twenty years. Stop signs mean absolutely nothing to him. Thankfully the man will stop at a red light... but stop signs only mean: "Take foot off gas for a few seconds." Not a CTA person you should meet... if you want to live.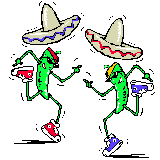 11. T
he owners of Picoso aka Pigroso
. Why did you have to change delicious Picante into some weird Mexi-American carryout place? Hamburgers? What happened to the white boy tacos? What happened to having really erratic hours? And that sign? C'mon, jalapenos don't have eyes and aren't male and female! Wait, is that one wearing a hula hoop?
12.
The bartender with two lazy eyes at a North Side karaoke/live country bar
. My BFF was relieved when I ordered our drinks from her because she had no idea how she was going to make eye contact with her.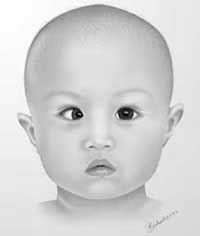 This is a pic of a baby with only one lazy eye, now imagine some dyed black fried hair on top, add 50 years, and make the other eye lazy.
13.
That girl who almost had me kicked out of Tai's
for flailing my arms too much and bumping into her on the dance floor. Don't just stand around when I am succeeding at bustin' a move!
14.
The architects of the monstrosity considered a building
on the corner Lincoln, Barry, & Greenview. What made you think that this building would have any semblance of being decent looking? It's a piece of crap and you know it. I feel sorry for the people who live in it. They must be on the verge of committing suicide because I can't even stand looking at it on my way to Jimmy John's, let alone have to claim to live there.
15.
The owner of the jewelry store in Uptown
that wouldn't buzz me into her shop, but did proceed to look me up and down. Well, excuse me if I don't have thousands of dollars of plastic surgery done like you do to make my head look like stretched plastic over a miniature pumpkin with some sharpie eyebrows.